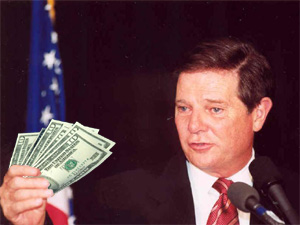 Tom DeLay. In space. That sounds awesome.
Unfortunately, though, all the Hammer's going to be doing is
heading
the
appropriations committee
for NASA. Maybe someone didn't get the memo, but this guy shouldn't be anywhere near money. Especially government money.
He's also gotten a spot on a Department of Justice subcommittee. Justice. Tom DeLay. Massive incongruence. What are these guys smoking??
(via
Josh Marshall
)