The Vatican
will release
documents next Tuesday that outline requirements concerning the orientation and habits of seminarians who seek to be ordained as priests.
The Vatican restricts men from entering the priesthood who a) "practice homosexuality," b) "present deeply rooted homosexual tendencies" or c) "support so-called gay culture."
I'm perfectly fine with part a as long as it is meant to understand that you don't engage in homosexual sex acts. Priests are intended to be celibate and that means no sex of any kind. The rules are the same for gay or straight priests in this regard.
Part b? How is that going to be checked? Psychological evaluations? Interviews with everyone the seminarian has ever known? And how does one know that this will be effective in screening anyone? Priests are to be priests for life--people often change dynamically, and I'm sure being a priest will change a person deeply over the course of many years. And what is a tendency? Is it directly related to behavior? Is it just some latent impulse that may be strong, but fought against very effectively? If so, I say that's a pretty ridiculous standard--I would say I have deeply rooted heterosexual tendencies, but I wouldn't go around screwing all my female parishioners if I became a priest.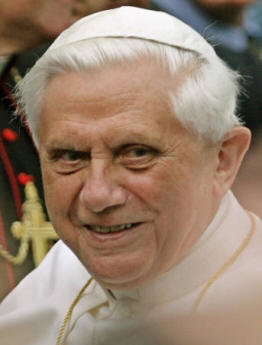 Part c is the one I really have a problem with because it does not just extend over who can be a priest and who can't be, but also extends over what a priest can do. By this rule, a straight priest who is involved in a gay-straight alliance in college may not be able to be ordained. I support gay culture and I would tell that to a bishop. Would that get me kicked out of the seminary? That's absurd.
A pdf of the Italian news release that has been authorized by a member of the Vatican is
here
. If you read Italian, have at it. I made some sense of it, but only after I had read the English news reports.
On a lighter note, Andrew Sullivan
calls attention
to the Pope's haute couture fashion sense. Then again, if you look this sinister, you probably need Prada shoes and Gucci sunglasses.